The price list (RIKEN Center for Brain Science) will be updated on April 1st 2023. Click 「 here 」for new price list.
In view of the rising cost of goods and labor, it has become necessary to raise prices. This revision has been approved by Steering Committee. Thank you for your understanding.
Strain Information
Dr. Makoto Kobayashi (University of Tsukuba)
Tg (-3.5gstp1:GFP)it416b
A transgenic line harboring the GFP reporter gene fused to the 3.5-kbp promoter region of zebrafish gstp1 gene and the Tol2 transposon elements.
In the larvae, strong GFP induction is observed in the olfactory regions upon treatment of electrophiles or oxidative stress that activate transcription factor Nrf2, such as auranofin, cadmium chloride, 15-deoxy-Δ12,14-prostaglandin J2, diethylmaleate, hydrogen peroxide and nitro-oleic acid.
In the larvae, constitutive GFP expression is detected in the lens, ears, fins, pericardium and lateral lines.
In the embryos genereted from heterozygous transgenic males and non-transgenic females, no constitutive GFP expression is observed. In the embryos generated from transgenic females, ubiquitous maternal GFP expression is observed.
Viability: Adult-viable.
Dr. Tohru Ishitani (Kyusyu University)
Tg (6xTcf/LefBS-miniP:d2EGFP)isi01
The Wnt/β-catenin signaling pathway plays a crucial role in the development and maintenance of multiple vertebrate organ systems. Binding of Wnt ligands to the receptor complexes on the cell surface induces the accumulation of cytoplasmic β-catenin. Accumulated β-catenin enters into the nucleus and then binds to Tcf/Lef transcription factor to activate the target gene expression. This transgenic line carries 6xTcf/LefBS-miniP:d2EGFP reporter, which expresses a destabilized enhanced green fluorescent protein (d2EGFP) in response to Wnt/β-catenin signaling activation. The expression of this reporter is obserbed in tectum, MHB, optic vesicle, retina, anterior-posterior lateral line primordium, fin bud, and caudal fin etc. Though the reporter gene is multiply inserted to the genome in this version of transgenic line, this line is a highly useful tool for studying Wnt/β-catenin signaling dependent processes during embryogenesis and regeneration.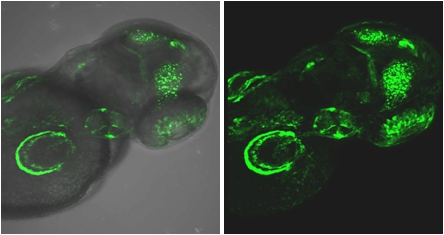 Dr. Atsushi Miyawaki (RKEN BSI)
Tg(EF1α:mKO2-zCdt1(1/190)) / rw0405b
Tg(EF1α:mKO2-zCdt1(1/190)) / rw0405d
Tg(EF1α:mAG-zGem(1/100)) / rw0410h
Tg(EF1α:mAG-hGem(1/60)) / rw0412a
Illuminating Cell-Cycle Progression in the Developing Zebrafish Embryo. zFucci provides sweeping views of cell proliferation in whole fish embryos.
Dr. Kawamura (University of Tokyo)
Tg (zfSWS1-5.5A:EGFP)tkk002
Information

Dr. Kawamura (University of Tokyo)
Tg (zfRH1-3.7B:EGFP)tkk001
Information

Dr. Yoshihara (RIKEN Brain Science Institute)
Mutually exclusive glomerular innervation by two distinct types of olfactory sensory neurons revealed in transgenic zebrafish.
Information

Dr. Higashijima (National Institutes of Natural Sciences, Okazaki Institute for Integrative Bioscience)
alx, a zebrafish homolog of Chx10, marks ipsilateral descending excitatory interneurons that participate in the regulation of spinal locomotor circuits.
Tg(chx10:GFP), Tg(chx10:loxP-DsRed-loxP-GFP), Tg(chx10:Kaede)
Information

Dr. Sato (RIKEN Brain Science Institute)

HuC:Kaede
Information

Page Top