How to Place a Web Order
1. Select strains to order
A web order can be placed from the "Strain list" page.

First, click on the "Strain list" link on the left menu of this page in order to go to the "Strain list" page to browse for strains. Next, click on the "Order" button for the corresponding sample state (egg, larva, pupa, cocoon or DNA) to place the strain into your cart.

The contents of your cart will be displayed in a box titled "Order" at the top of the left menu and will be sorted by the sample state of the items.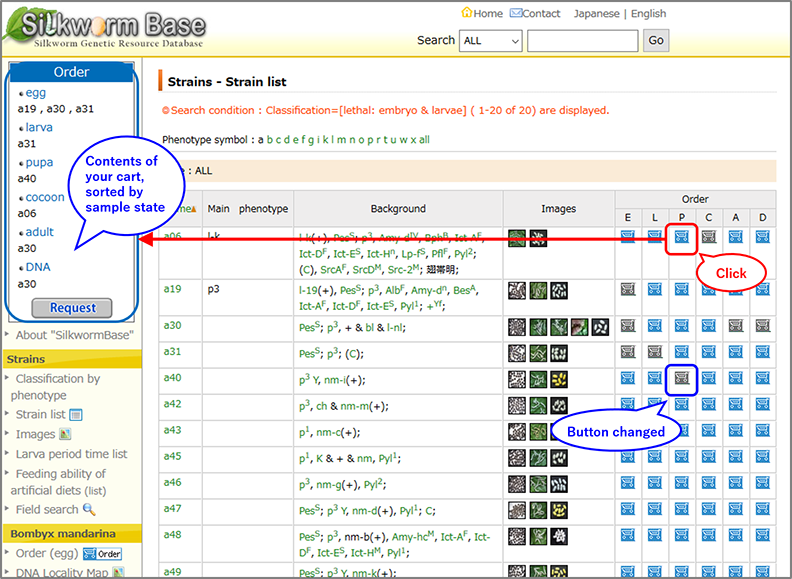 2. Proceed to Application page
When you are ready to proceed to checkout, click the "Request" button at the bottom of the "Order" box to proceed to the Application page.
3. Fill in the quantity of each strain
Be sure to fill in the quantity for each strain on the Application page. The default number would be 1.
You can add more strains to your order by clicking "Continue to add more items" or by clicking "Strain list" on the left menu.
4. Confirm the order quantity
Click the "Confirm Total" button after entering the quantity of strains you want to order.
An estimated price will be displayed.
※You cannot place your order if you do not confirm the order quantity of your strains.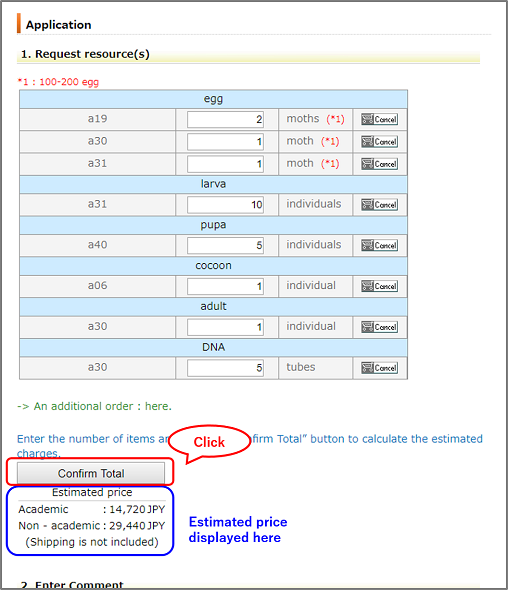 5. Enter your remarks
Please inform us if you want to request for a specific shipping date or if you have any special requests.

6. Fill in your information
Please enter your personal information so that we can contact you to confirm your order and to inform you about the delivery of your strains.


If you have placed a web order before
Enter your email address and the system will be able to retrieve your registered information.
Click "Next" once you have entered your email.


If you are placing a web order for the first time
Please enter your name, address, etc.
The fields marked with an asterisk (*) are required.
Please be sure to enter the correct email address.
Click "Confirm" once you have entered the required information.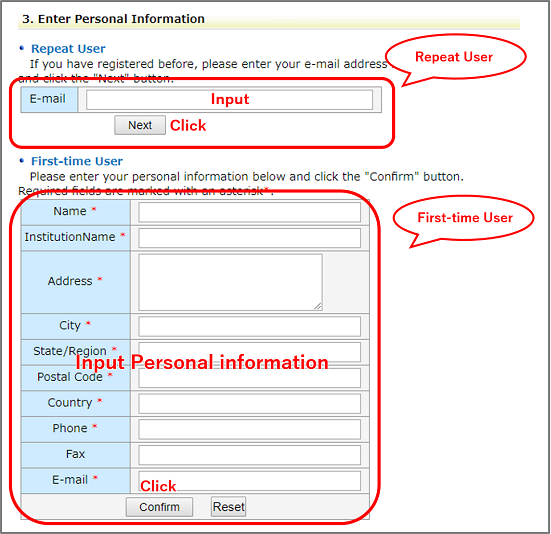 7. Confirm your order
Please confirm the details of your order as well as your personal information. If necessary, you can edit your personal information from this page.

You have successfully placed a web order.
8. Verify your confirmation email
A confirmation email will be sent to you after you click the "Send" button.
Please verify the details of your order as stated in the confirmation email.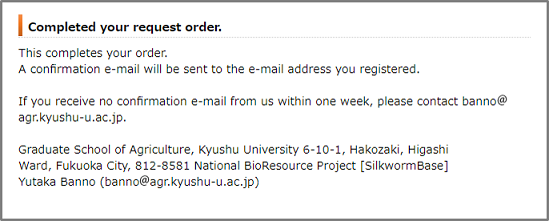 9. Contact information for inquiries
For inquires, please contact Yutaka Banno of the Graduate School of Agriculture, Kyushu University
Address: 744, Motooka, Fukuoka Nishi-ku, Fukuoka, 819-0385, Japan

Tel and Fax : 092-802-4822
Tel : 092-802-4820
E-mail : banno
agr.kyushu-u.ac.jp